I am so excited to be competing in Season 10 of Project Run & Play! To read more about PR&P and find out how you can join in the sew-along, just click here. To see all of this week's designer looks and vote for your favorite, click right here! Read on for tons of pictures and more details about my first week look.
As a child of the 1980s, I was really excited about the Project Run & Play theme for Week 1 – 80s Cartoon-Inspired Looks! I was 10 in 1980, and I graduated high school in 1988, so I have fond memories of so many 80s cartoons! The big problem came when I had to pick just one! What a hard choice! I knew that I wanted to make this an everyday outfit, and I didn't want the outfit to look costume-y or really feature any specific characters. With those things in mind, I narrowed it down to a few choices. From there, since I was sewing for my seven-year-old, I enlisted his help to make the final decision. Jamie's choice? Inspector Gadget!
My Go, Go Gadget Fashion ensemble is an everyday outfit inspired by Gadget's own classic inspector's wardrobe, but with hidden accents that represent his robotic gadgets! I thoroughly enjoyed designing and sewing this outfit, and Jamie loves it! (His favorite part is the jacket. He didn't want to take it off, and it was in the 80s here in Florida on the day of our photo shoot!)
The set is made up of three pieces – jacket, top and pants. I designed the jacket with a trench coat style fit, but with a shorter length to make it more practical for my little guy.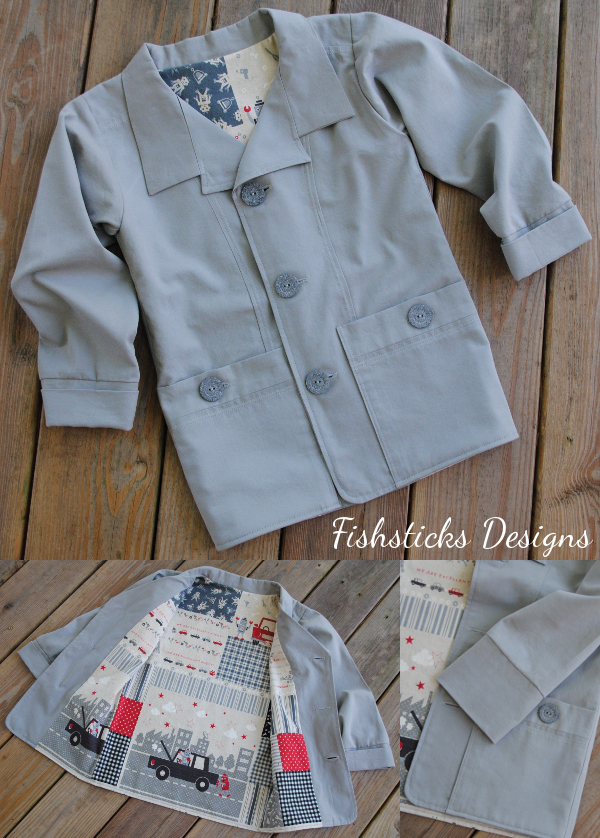 The jacket outer is sewn with a soft gray cotton twill, and it's fully lined with a cotton and linen blend robot print. The cuffs fold down for extra growing room.
The front plackets feature a gentle curve at the top, and they're finished with rows of twin topstitching in matching thread. Actually, there is a lot of topstitching in this jacket — in the pants, too! I love the detail that it adds. I've said before that I think topstitching is like ruffles for boys.
The two front pockets are big enough to hold Inspector Jamie's notepad, pencil, magnifying glass and anything else that he might need for his investigative work! They also button up to keep everything safe inside.
The 1 1/8″ buttons have a really cool mottled gray coloring, and they're eco-friendly because they're made of recycled cotton.
The Henley-style top is constructed of light blue cotton pique fabric. Inspector Gadget's shirt is white, but Inspector Jamie is tough on white clothes, and he lives in a house with well water that doesn't get along well with white for very long. I love the look of the light blue mixed with the gray of the jacket and the dark blue of the pants.
The traditional Henley collar is sewn with 1X1 cotton/spandex ribbing, and the placket inset features more cotton/linen robot fabric. Isn't that little yellow robot peeking out just adorable?
I finished the placket with white metal snaps. (See the little scratch on Jamie's cheek in the picture below. It's the result of momma leaving a pin in the shirt when he first tried it on! Have you ever done that? I felt so bad, but he seemed rather excited when I told him that we would just say that it was a scar from his past detective work.)
I cut the back of this top longer than the front, and I added in side vents.
The fine-wale cotton corduroy pants wrap up this outfit in comfortable, modern style. A zippered fly hides more tiny robots on the fly shield and the inside of the waistband. The waistband also features functional belt loops.
Two huge front pockets provide more storage room, and double knees give longer-lasting wear. The coordinating topstitching on the pockets and the knee panels gives more great detail.
Jamie is tall and thin and generally wears slim sizes in ready-to-wear pants, so elastic in the backwaist gives him a comfortable fit. The back yoke and pockets finish the pants off nicely.
I think this outfit accomplished all of my goals: Inspector Gadget-inspired, comfortable everyday wear, and loved by the receiver! I happen to think he's quite handsome in it, too!
Jamie planned out the props for this photo shoot himself, and he had a lot of fun with it!
All patterns are self-drafted.
Jacket fabrics: Gray Cotton Twill by Fabric Finders from Southern Seams, Robot Cotton Linen by Kokka from Sew Me a Song, Recycled Cotton Buttons by Green Earth from Joann Fabric.
Shirt fabrics: Light Blue Cotton Pique upcycled from a thrifted Old Navy polo, Ribbing from Joann Fabric, Robot Cotton Linen by Kokka from my stash.
Pant fabrics: Royal Blue Fine Wale Corduroy from Hobby Lobby.
Thank you so much for dropping in to visit and reading about my Go, Go Gadget Fashion Look! Don't forget to go vote: Project Run & Play – Week 1!