I mentioned before that I've jumped headfirst into the world of Instagram swapping, primarily IG mini quilt swapping. Round three of the Schnitzel & Boo Mini Quilt Swap was actually my second IG mini swap. I'm sharing it now because Round Four is open for sign-ups, and you might want to jump in! (Find out how to join by clicking the image at the very bottom of this post.)
When you sign up for a swap, you'll obviously want to start by reading all the rules! Once you've decided that a swap will work for you, then you'll likely find yourself filling out a Google Docs form with all of your preferences. Questions generally include your likes and dislikes in fabrics, your favorite fabric designers and favorite quilters, what extras you'd like to receive, whether or not you can send internationally, or are willing to be a swap mama or a swap angel. (Swap mamas are responsible for coordinating smaller groups within the larger swap group. Swap angels make minis for swappers who find that their partners have disappeared or just can't sew for them.)
Most swaps are secret, so you must stalk your partner's Instagram, Pinterest, flickr or blog without letting them know that you're their partner! You'll receive from a different person than the one you're sending to.
Usually, you'll be asked to create an Inspiration Collage and share it on IG. Be sure to credit the quilters who made the quilts in your collage. Many people tag them on Instagram. I like to pin the quilt images to a Pinterest board, then screenshot my Pinterest page to make my collage. That way, I can include the link to my Pinterest page where the links to the original quilts can be found. Here's the Pinterest board that I created for the S&B Mini Swap.
As soon as you've received your partner assignment, you can start deciding what you'll make! You'll be expected to share progress shots as you go. Be sure to tag your photos with both the swap hashtag and the hashtag for your swap mama's group. Do not tag the person you're sewing for. Remember, it's a secret!
Here are the pictures that I shared during Round 3 of the Schnitzel & Boo Mini Quilt Swap: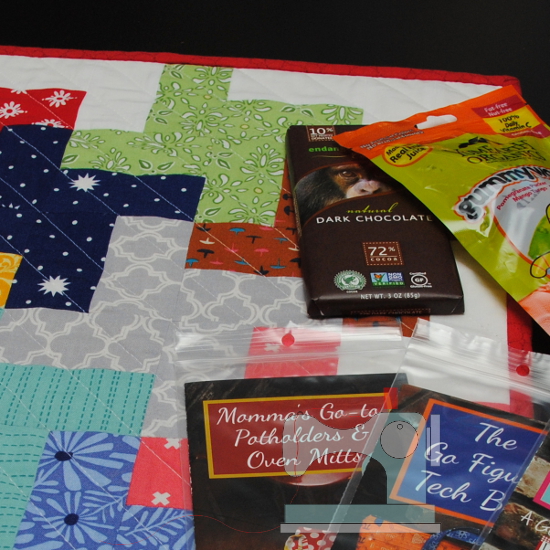 That final one was a little peek just before I shipped out the package. You can share a picture of the full quilt if you'd like, or you can keep the finished quilt a secret until your partner has received it. You will usually be expected to send some little extras, too – candy, small sewn items, fun notions, anything that you think your partner will enjoy. (Extras aren't always required, though. Be sure to check the details of the swap that you've joined.)
Here's the quilt that I made for my partner in Round 3 of the Schnitzel & Boo Mini Quilt Swap. I was inspired by the Tessellations Quilt from Red Pepper Quilts.
You always want to stitch a label onto the back of your quilt, and be sure to finish and ship on time! It's no fun to watch everyone else receive their quilts and still be waiting.
Here's the beautiful quilt that I received in this swap. Amazing, right?! It was made by Bianca Malone (@TIKI_BEAN).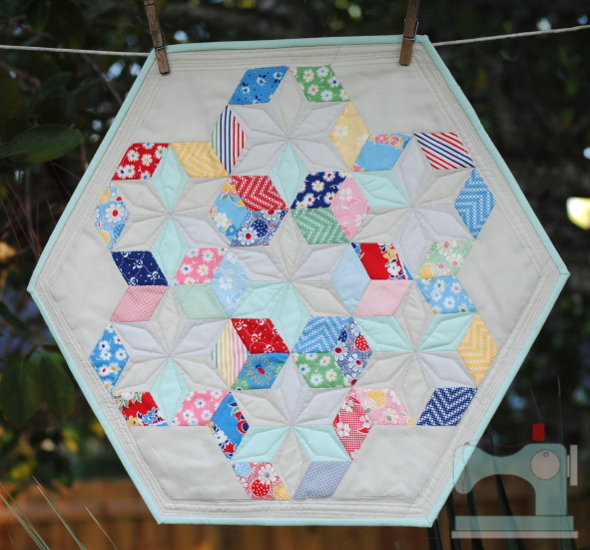 And, here's the whole swap package, filled with all sorts of goodies!
Finally, be sure to post a picture of the quilt that you receive with a big "Thank you!" on Instagram to wrap up the swap.
So what do you think? Are you ready to join in? Sign-ups for Round 4 of the Schnitzel & Boo Mini Quilt Swap end on Friday! You can find all of the details by clicking the photo below.
Have a question about Instagram Mini Swapping? Leave a comment below, and I'll do my best to answer!