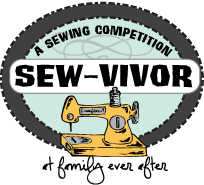 Have you ever wondered what it would be like to outwit, outplay and outlast in a Survivor-like competition, only in your dream version of the popular reality TV show, you would survive based on your sewing skills?!  If so, then you need to run over to the Family Ever After blog and audition for the second season of SEW-VIVOR!  Not only will the challenges all involve sewing, but the prizes are fabric and patterns, AND you don't have to be dropped off on a remote beach, make a fire with two sticks or sleep outside in the cold rain with a group of strangers for 39 days!
This season, Fishsticks Designs is sponsoring Sew-vivor with pattern prizes for the 1st, 2nd and 3rd place winners.   Auditions are open now through March 11.  The Top 10 contestants will be announced on the 13th, and they will advance to the sewing competition which runs through the end of April.  (If you don't end up being one of the finalists, though, you should sew along anyway!  I will be!)
You know you want to see what the prizes are and check out the competitors so far, don't you?
To read all the rules and to enter, just click right here!
Sew-vivor