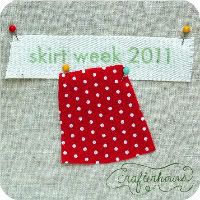 Summer means warm, breezy days and perfect skirt weather! Whether tiered, wrap-around or gored, it's time to pull out those skirt patterns and get sewing! When you're done, be sure to enter your finished project in the Skirt Week contest at crafterhours. Just click on the button at the top of this post to read the rules and find out how to join in the competition.
Adrianna and Susan put up the list of prizes a few days ago, and they are amazing! Trust me–you are going to want all of them! You can see for yourself right here: More Reasons to Make Skirts.
What are you waiting for? There are skirts to sew and prizes to win! Be sure to take a few minutes each day during the week of June 12th, though, to check out the tutorials, articles and ideas at crafterhours. You may even find a tutorial from me!