Easter is coming soon!  And, Easter tends to bring beautiful handmade dresses for all the pretty little girls.  Piles of flowery fabric and stacks of frilly patterns have made their way to sewing rooms everywhere.   Boys, on the other hand, are so much harder to sew for when it comes to dress-up clothes!  Most of us tend to go for simple and traditional button down shirts and dress pants for our little guys.  How about dressing up those plain tops with a fun, personalized, handmade tie . . . or two . . . or a dozen!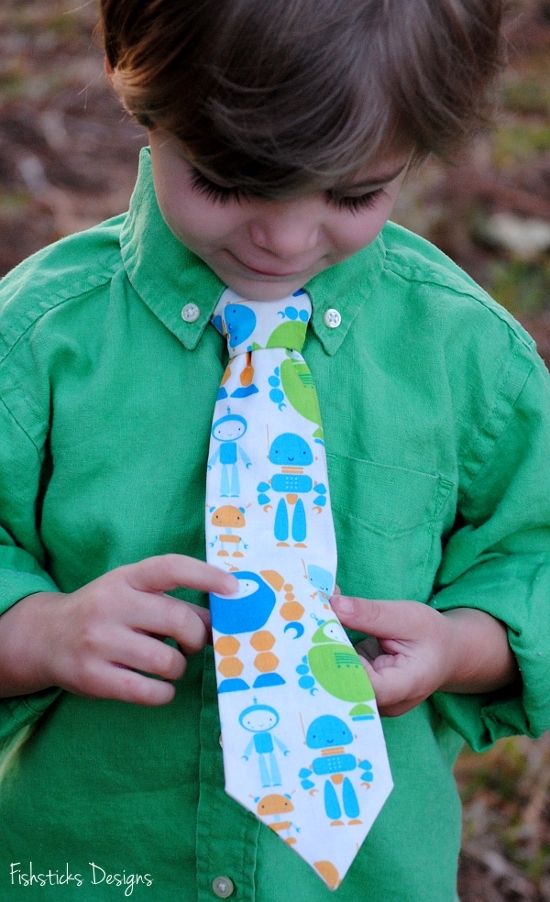 Ties are so fast and easy to sew, even ties that fasten with hook & loop tape (like Velcro) or pull on over the head with elastic!
You might even find that your teenage boys will get excited about wearing something mama-made, if it's a tie made with a great fabric!  (I can't believe how grown-up my Allen looks in this picture!  And, for the record, he not only said, "That's pretty cool," when he saw the tie, but he also wore it to his writing class this morning.)
Don't they look handsome? (Even if they all really need haircuts!)
I had to try these ties out with my Everyday Camp Shirts!  I wasn't sure at all how they would work since the Camp Shirt pattern is really meant to be worn as a more casual top.  (It doesn't even have a top button!)  I think they look adorable, though!  What do you think?
I did find that they look much nicer with the Velcro-type fastener than with the elastic, though.  I think that's because the Camp Shirt has a wider neckline than a traditional button-down dress shirt.  How can you resist a sweet little guy in a matching top and tie?! 
I'd say my little guys approve!  (Or maybe big sister, Samantha, was making faces behind my back while I was photographing?)
Ready to sew up a batch of ties for all the little boys and young men in your household?  I've got a tutorial all ready for you!  The tutorial includes patterns and instructions for Velcro and Elastic Ties in sizes to fit little ones from 2-4 and from 5-8, and it includes the pattern and instructions for a Traditional Tie for your bigger boys from ages 8 to about 14.  You'll find the tutorial right here:  The Totally Terrific Tie Tutorial. If you sew one or two or more, I would love to see!